Come Out and Win: Organizing Yourself, Your Community, and Your World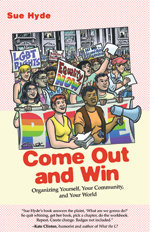 by Sue Hyde
From starting a gay-straight alliance in your high school to effectively lobbying your state representative face-to-face, Come Out and Win explains in a clear and user-friendly manner how to organize and become politically active. It will educate, engage, and agitate LGBT people and allies of all ages to become involved in the political movement to win full equality under the law and sexual/gender freedom. Sue Hyde tells the history of gay liberation but also offers firsthand guidance and practical advice for building organizations and taking concrete action to eradicate homophobia.
Buy this book from:
Independent Bookstore | Amazon | Barnes & Noble | Beacon Press
Praise and Reviews
"Sue Hyde's book answers the plaint, 'What are we gonna do?'  So quit whining, get her book, pick a chapter, do the workbook.  Repeat.  Create change.  Badges not included." —Kate Clinton, humorist and author of What the L?
 "Sue Hyde has demonstrated in her own life that winning equal rights for LGBT people is not a spectator sport.  Now she has taken this one step further and provided a manual for other LGBT people so that they can join her in this effort." —Congressman Barney Frank
"Unique and invaluable, this is the essential guide for anyone wanting to advance equal rights for LGBT people." —Matt Foreman, Executive Director National Gay and Lesbian Task Force
"An invitation to change the world can't be taken lightly, unless it's delivered with the sure and light touch of an engaging, dedicated organizer like Sue Hyde.  Turn the pages and be the new world." —Jewelle Gomez, author and activist

"In this richly detailed and well-organized book, she offers a stirring course in gay activism with step-by-step-how-to-advice . . . Designed to outrage, inspire, encourage and anger readers, and give them the tools to spring into action, this is an indispensable resource for anyone looking for a little guidance and a little push." —Publisher's Weekly Review

"Hyde presents activism as an organized method for gaining self-acceptance as well as societal and political change . . . This book fills a niche that heretofore has lacked a sophisticated yet accessible treatment of the topic . . . This book has staying power for the reader and as a library collection staple." —Voice of Youth Advocates Review
About the Author
For two decades, Sue Hyde has inspired and nurtured organizers and led community members to participate in democracy with the goal of securing freedom, justice and equality for lesbian, gay, bisexual, transgender and intersex people and their families.
She is a seasoned community organizer and advocate whose issue portfolio at the National Gay and Lesbian Task Force has included repeal of sodomy laws, rescission of the military's ban on openly gay, lesbian and bisexual servicemembers, passage of local and state civil rights laws, training leaders to effectively oppose right-wing incursions in their communities, directing the annual Creating Change Conference, and securing marriage equality for same-sex couples.
Hyde is an accomplished public speaker, teacher and writer whose wit, wisdom and wry observations of politics in these United States frame a tireless dedication to community building and an inexhaustible faith in our movement and its people. She was the recipient of the 2002 Stonewall Award in recognition of lifetime service to the LGBT political movement.
She also serves as the Task Force New England field organizer and lives in Cambridge, Mass., with her partner and their two children.
Come Out and Win: Organizing Yourself, Your Community, and Your World