Family Pride: What LGBT Families Should Know about Navigating Home, School, and Safety in Their Neighborhoods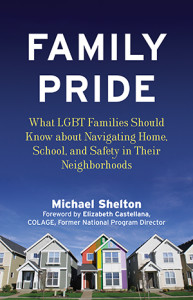 By Michael Shelton, Foreword by Elizabeth Castellana, COLAGE
An invaluable portrait and roadmap on how to thrive as an LGBT family.
Family Pride is the first book for queer parents, their families, and allies that emphasizes community safety. While the national focus remains on the mistreatment of LGBT people in schools, the reality is that LGBT families also face hostility in various settings-professional, recreational, and social. Drawing on his years as a dedicated community activist and on the experiences of LGBT parents, Michael Shelton offers concrete strategies that LGBT families can use to intervene in and resolve difficult community issues, teach their children resiliency skills, and find safe and respectful programs for them.
Buy this book from:
Independent Bookstore | Amazon | Barnes & Noble | Beacon Press
Praise
"Community activist Shelton (Boy Crazy) brings intellectual rigor to this well-researched examination of the history, progress, and challenges of LGBT families in the U.S., a broader focus than the title implies" —Publishers Weekly

"An earnest, well-researched overview." —Library Journal
"An invaluable portrait and roadmap on how to thrive as an LGBT family, Family Pride is engaging, accessible, and packed with essential information for LGBT families and their allies." —Sue Hyde, author of Come Out and Win
About the author
The author of five books, Michael Shelton is the director of sexual-minority treatment services and works with same-sex families at Equilibria Psychological Consultants in Philadelphia. He is also the residential director for Mountain Meadow, one of two summer camp programs in the United States for the children of same-sex parents. He lives in Philadelphia.
Elizabeth Castellana is COLAGE's National Program Director. COLAGE is a national movement of children, youth, and adults with one or more lesbian, gay, bisexual, transgender and/or queer parent(s). Visit them online at www.colage.org.