"You Can Tell Just By Looking" And 20 Other Myths about LGBT Life and People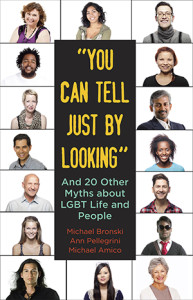 By Michael Bronski, Ann Pellegrini, and Michael Amico
Breaks down the most commonly held misconceptions about lesbian, gay, bisexual, and transgender people and their lives
In "You Can Tell Just by Looking", three scholars and activists come together to unpack enduring, popular, and deeply held myths about lesbian, gay, bisexual, and transgender people, culture, and life in America. Myths, such as "All Religions Condemn Homosexuality" and "Transgender People Are Mentally Ill," have been used to justify discrimination and oppression of LGBT people. Others, such as "Homosexuals Are Born That Way," have been embraced by LGBT communities and their allies. In discussing and dispelling these myths including gay-positive ones the authors challenge readers to question their own beliefs and to grapple with the complexities of what it means to be queer in the broadest social, political, and cultural sense.
Buy this book from:
Independent Bookstore | Amazon | Barnes & Noble | Beacon Press
Praise
"This powerful book demands that we look more closely at the ways we move in and structure our society, and asks vital questions that will steer the culture toward justice and equality." —Publishers Weekly

"This groundbreaking book is rich in smart, stirring, and forthright examinations of myths, negative and positive, and clarifying examples, and holds to scholarly standards while compellingly and revealingly addressing the curiosity and concerns of mainstream readers." —Booklist
"One of the most complete sourcebooks about science, sociology and LGBT life out there." —PopMatters
About the authors
Michael Bronski has been involved in gay liberation as a political organizer, writer, and editor for over four decades. He is the author of several award-winning books, including A Queer History of the United States, and most recently coauthored "You Can Tell Just by Looking": And 20 Other Myths about LGBT Life and People. He is currently Professor of the Practice in Activism and Media in the Studies of Women, Gender, and Sexuality at Harvard University. He lives in Cambridge, Massachusetts.
Ann Pellegrini is professor of performance studies and religious studies at New York University, where she also directs NYU's Center for the Study of Gender and Sexuality. She has written extensively about religion, sexuality, and US public life. Her publications include Performance Anxieties and the coauthored book Love the Sin.
Michael Amico is a PhD candidate in American studies at Yale University, and is writing a history of the love between two men in the Civil War. He has written for LGBT youth publications, such as Young Gay America, and provided political analysis for the Boston Phoenix and other venues.