God vs. Gay?: The Religious Case for Equality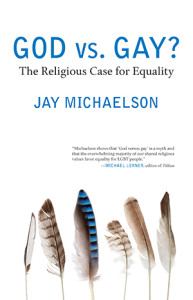 By Jay Michaelson
Argues that the "God vs. gay" divide is a pernicious myth and that religious people favor gay people because of religion, not despite it.
The myth that the Bible forbids homosexuality—the myth of "God versus Gay"—is behind some of the most divisive and painful conflicts of our day. In this provocative, passionately argued, and game-changing book, scholar and activist Jay Michaelson shows that not only does the Bible not prohibit same-sex intimacy, but the vast majority of its teachings support the full equality and dignity of gay and lesbian people, from the first flaw it finds in creation ("It is not good for a person to be alone") to the way religious communities grow through reflection and conscience. In short, Michaelson observes, religious people should support equality for gays and lesbians–not despite their religion, but because of it.
With close readings of the Hebrew Bible and New Testament, the latest data on the science of sexual orientation, and a sympathetic, accessible, and ecumenical approach to religious faith, Michaelson makes the case that sexual diversity is part of the beauty of nature and that the recognition of same-sex families will strengthen, not threaten, the values religious people hold dear. This is an important book for anyone who has wrestled with questions of religion and homosexuality: parents and pastors, believers and skeptics, advocates of "gay rights" and opponents of them. Whatever your views on religion and sexual diversity, God vs. Gay is a plea for a more compassionate, informed conversation—and a first step toward creating one.
Buy this book from:
Independent Bookstore | Amazon | Barnes & Noble | Beacon Press
Praise
"Jay Michaelson looks at the Hebrew and Christian bibles with keen intellect, wit, and often surprising insights. He roots his arguments not in dry exegesis but in hard-won self-acceptance and passionate concern for others. I highly recommend God vs. Gay? for anyone seeking to understand how being homosexual and religious are not antithetical." —Joe Perez, author of Soulfully Gay
About the author
Jay Michaelson is the author of three books and numerous articles about the intersections of religion, sexuality, and law. A leading activist on behalf of LGBT people in faith communities, Michaelson and his work have been featured in the New York Times and on NPR and CNN. He is the founder of Nehirim, the leading national provider of community programming for LGBT Jews and their allies, and lives in upstate New York.