Love's Promises: How Formal and Informal Contracts Shape All Kinds of Families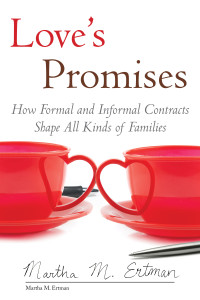 By Martha M. Ertman
Blends memoir and legal cases to show how contracts can create family relationships
In Love's Promises, law professor Martha Ertman delves into the legal cases, anecdotes, and history of family law to show that love comes in different packages—each shaped by different contracts—which family law should and sometimes does recognize. Beginning with Ertman's own story about becoming part of a family of two moms and a dad raising a child, she then shows that many people—straight and gay, married and single, related by adoption or by genetics—use contracts to shape relationships. These contracts and deals can be big, like vows of fidelity, or small, like "I cook and you clean." But regardless of scope, these deals can create, sustain, and modify family relationships. Insightful, accessible, and revelatory, Love's Promises lets readers in on the power of contracts and deals to support love in its various forms and to honor the different ways that individuals contribute to our daily lives.
Buy this book from:
Independent Bookstore | Amazon | Barnes & Noble | Beacon Press
Praise
"At a time of dramatic transformations in Americans' family lives, Love and Contracts offers unique insights into how to manage diverse intimate arrangements. Blending vivid personal memoir with legal analysis, Ertman makes a compelling case for why, when, and how contracts can enhance loving relationships. A pioneering book that should be read by all those concerned with current and future families." —Viviana A. Zelizer, Lloyd Cotsen '50 Professor of Sociology at Princeton University, and author of The Purchase of Intimacy and Economic Lives
"Love's Promises is a skillful melding of law and intimate relationships. Increasingly these interrelationships exist outside of marriage, in part because of the reluctance of our state governments to extend the legal protections of marriage to the unconventional relationships that have become so common. Ertman shows that private contracts can go far to substitute for formal marriage, because judges are far more willing, in the name of free choice, to give private contractual arrangements the stamp of legality than legislatures are to update their marriage codes." —Judge Richard A. Posner, U.S. Court of Appeals for the 7th Circuit and author of Sex and Reason
"Love's Promises is the North Star for 'Plan B' parenting. In sharing her experiences as a mother, and expertise as a lawyer, Ertman charts a course to parenthood protected by the letter and the loving care of the law." —Reverend Dr. Susan Newman Moore, Pastor, Counselor and Author
About the author
Martha Ertman is a law professor at the University of Maryland's Carey Law School and has specialized in family law for two decades.